Quick hits Friday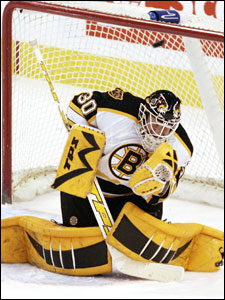 At 12-6-2 Timmy Thomas's record over 82 games would work out to 49-25-8 or 106 points... not too shabby!
Phil Kessel - 5 goals 4 assists minus 8 and awful at face off's doesn't block shots, doesn't hit.
Wayne Primeau 5 goals 4 assist minus 5 and acceptable at face off's, playing against the other teams top lines, does block shots, does hit....
Phil Kessel Average time on ice 12:55
Wayne Primeau Average time on ice 15:19
Questions?
Looking for a good time? Go read the comments on TSN's site on the articles after a Toronto loss....priceless!
Thanks largely to Toronto the B's are 7-3-1 in their division. Divisional play was their Achilles last season.
For nevets: The boys are 1 point out of 8th place with two games in hand on this team, the Islanders.
Maybe this is better: They are 10 points out of second place with 4 games in hand on this team, the Thrashers. (I will help the slow with math - if they win their games in hand they would be 2 points out of second place in the division)
If they continue to win 70 percent of their games as they have lately I may have raise my expectations from a 6-8 seed to a team that could get a round or two in the playoffs.
Hopefully on the 12 days of Christmas Timmy gets a rest because he has been delivering the presence.
NJ - should be a great game!
Labels: Quick Hits Friday